The Canorient Seniors Club of Toronto
EXECUTIVE COMMITTEE
PRESIDENT
Marilyn Correa
 
Loving retirement after 37 years of working for a bank.  As a teenager in Karachi, I had always been keen on volunteering and contributing in my own way. In Canada, I happily continued to volunteer in different areas at the bank, horticultural club, food banks, choirs, church ministries and Canorient. The legacy of my involvement in Canorient at the Main Body and most recently as Acting President of the Seniors Club comes from my dear parents who were very involved at the time of its inception. They and many other seniors' contributions helped to create the vibrant club that it is today. I remain committed to volunteering in my new role as President and thank each of you for your support of the club throughout these past many years. I look forward to working with my committee and members during these difficult times to serve and keep our club members engaged virtually. Hopefully, we can all look towards better days with hope and faith in God.
VICE-PRESIDENT
Irwin Coutinho
 
Love travelling, so working in the airline industry made that easy....have now retired and busy working in the garden which I love, though the green thumb is not in my genes........it's all brown! 
Joined the Canorient soon after we immigrated to Toronto, to keep in touch with our community.  Have not done much volunteering, so when asked to I was quite surprised, but accepted and I'm delighted to give my all.....soooo here I am!
TREASURER
Francisco Rodrigues
 
I have been in the Accounting profession even before I migrated to Canada in 1975 and enjoy what I am doing.

I have been a member of the Canorient Seniors for the past 4 years after my retirement. I love travelling, cooking
SECRETARY
Mavis Gois
 
"Live your values. Live the life you want to lead". 
 
I have been a proud member of this great association for over 39 years. My husband, Pompie, and I consider ourselves fortunate to have a way to interact with our community since arriving in Canada. Over the years, we have attended many fantastic events and have a number of fond memories. After retiring, I decided to stay active by volunteering my time to plan and co-host fun-filled events for the Seniors' club. Bringing joy and having a positive impact on our community has kept me motivated during these unprecedented times.
 
In my free time, I have many passions I enjoy pursuing. One of my greatest passions is food. I love exploring new restaurants with my family, as well as preparing exotic cuisine. Of all my food experiences, high tea with my daughter is my favourite. I also nurture my artistic side through knitting. I taught myself how to knit following YouTube videos and continue to hone my craft with every new pattern. My family also enjoys travelling and can't wait to plan our next adventure once the pandemic is over.
 
I am extremely proud to serve on this Board, and look forward to working with all of you to bring entertaining and engaging events to our Members. Let's keep innovating to keep the good times going!
 
Stay healthy, stay safe.
 
Cheers!
DIRECTOR
Belen Gonzales Mansey
 
A retired Canadian Payroll Compliance Practitioner, (CPA - PCP).  I am looking forward to be of service within the community through Canorient Seniors' Committee.  I hope I can surpass your expectations!  I live to enjoy life.




DIRECTOR
Cheryl D'Croix 

My professional days of being a Buyer are over so I thought I would venture out into the world. As I have been seriously working most of my young life, I thought it was time to start having some fun. So having known a few of the members I started with the outings as a guest to the Casino's and enjoyed the get togethers every second Thursday and the wonderful Christmas dances which got me interested enough to be a member. I never thought I would be a member of any club but, when I heard and saw how much fun everyone had I decided to see for myself and I'm glad I did. !!!!.

I have now been a member for about 5 years or more and have enjoyed every minute of it. Even got into having fun Belly dancing with some of the very talented ladies. So when Marilyn approached me to help out as a director, I thought why not !!!  I hope I can be an asset to the committee and be able to come up with ideas of how to further entertain our members.
DIRECTOR
Jean Fernandes
 
I joined the Canorient Seniors Club committee, along with my late husband Kevin Valentine Fernandes in 2016.  We decided to serve on the committee, in order to give back to our seniors, as my late Mum (Marie Miranda), used to enjoy going to the Seniors Club for their events.I love to cook, bake, keep a clean home and enjoy reading, keeping in touch with our seniors, not forgetting family and friends.
This will be my 5th year on the committee, I hope sincerely I can make a difference with our new team, as alone we can do so little, together we can achieve much more.
DIRECTOR
John (Pompie) Gois
 
There are so many reasons why my wife, Mavis, and I enjoy being proud members of the Canorient Association. Over the past 39 years, I have participated in a variety of ways - I've been on the board of the Main Body, played 'Santa' for the Children's parties, and now I'm a dedicated director on the Seniors' board. I can't imagine not being a member of this great Association. In addition to supporting our community, I volunteer for our parish and have volunteered for United Way and Canadian Tire Jumpstart. These years have brought immense joy and satisfaction to me
DIRECTOR
Jennie Cunningham

I have been a member of the Canorient Association along with my husband Godfrey for the last 30 years.

We enjoyed attending all the functions held by both the main body and the Canorient Seniors Club. 
Last year I retired from the Insurance Industry and have been involved with our Parish. I am enjoying my retired life especially with my grandson and there is never a dull moment. Recently I was approached to join the Canorient Seniors Club committee. After giving it some thought I decided to take the plunge.

DIRECTOR
Tony Misquita

Proud husband, father and grand father. I enjoy spending time with my 7 Grandchildren, walking, and DJ"ing at house parties. My wife and I have been supporters of the Canorient both in Montreal and Toronto for 45 years. I am looking forward to serving our Community.

Upcoming Events :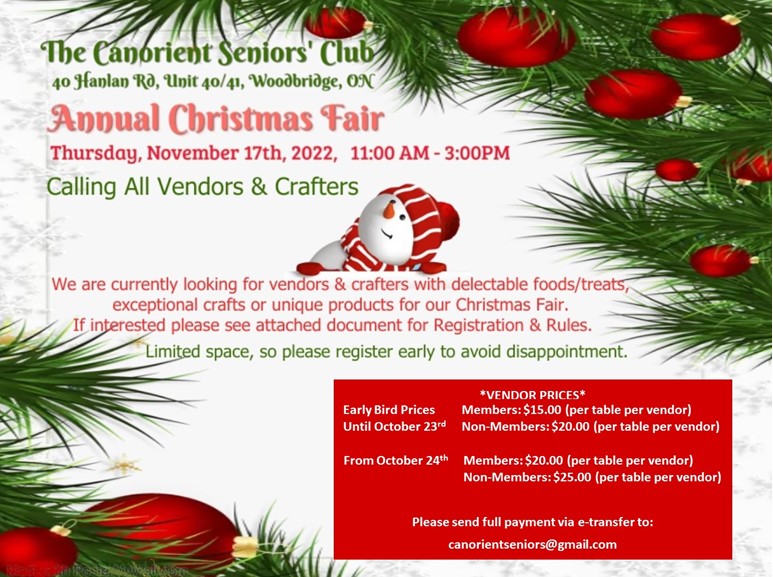 Vendors / Crafters, please click here to register
PAST EVENTS:
Aug 30, 2022 ~ Rosary and Talk by Dr. Irene D'Souza
Aug 15, 2022 ~ Midland – Martyrs Shrine
Mar 8, 2022 ~ International Women's Day
Nov 6, 2021 ~ In the Air There's a Feeling of Christmas
Oct 14, 2021 ~ Harvest Festival
Oct 7, 2021 ~ Virtual Rosary To Pray For an End to the Pandemic combined with 5 other Senior Associations.
Sep 30, 2021 ~ Our Musical Morning of Trivia and Dance
NOTICE:
PHOTO GALLERY:
2022
2021
Crazy Hat Event & Mother's / Father's Day
2018